【New Release】TC100S Digital Interface (USB-C female to RCA Coaxial) Available Now!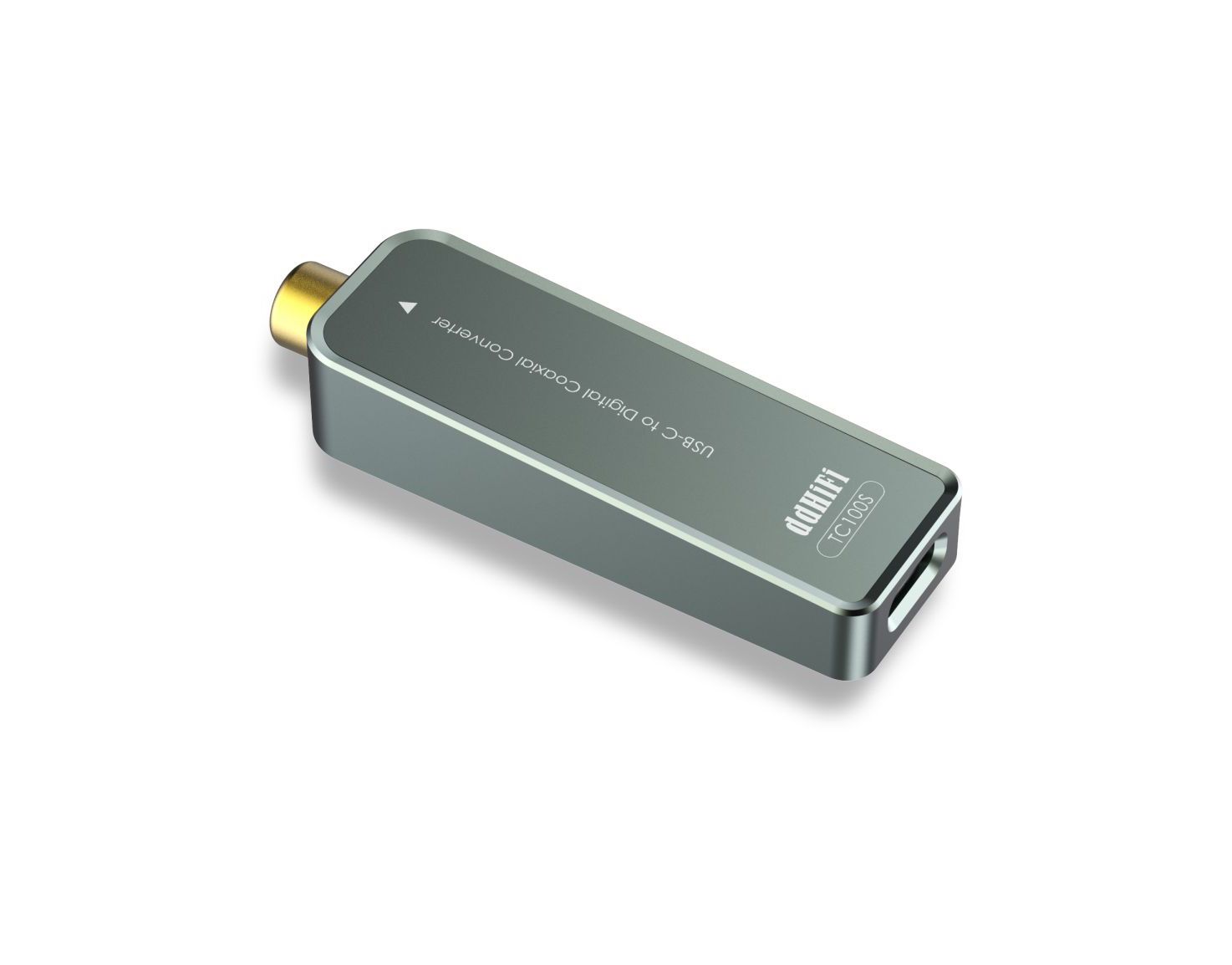 USB to Coaxial
Truly Portable Digital Interface
TC100S: The detachable version of TC100-COA
How to Make Your Phone Interact with the Old Devices?
The early generations of DAC Amplifier devices have only the digital coaxial and optical input interfaces but do not feature a USB input.
As a result, they could not directly interface with audio source devices which interface via the USB, particularly Android devices with the USB-C interface or the iPhones with the Lightning interface.
The TC100S provides these old devices with a new lease of life and allows them to not only interface with the CD players, but also the latest digital devices via USB connection.
Digital Audio Transformer
For some inferior USB conversion devices, the ground of the USB is directly connected to one of the coaxial outputs or uses only one capacitor to create the isolation, as a result, this audio transmission would be unreliable.
The TC100S adopts a DA101C digital audio transformer from Murata company, which balances the USB input and coaxial output circuits, to ensure high-quality digital audio transmission.
Standard Female Socket for Connecting RCA Coaxial Cable
You can connect coaxial cable as needed for your environment, and different materials of coaxial cables* may result in different sound performances.
*It's recommended to use with ddHiFi's dedicated coaxial cable RC100C (to be purchased separately).
Replaceable USB Cable
Due to adopting a USB-C female connector as its input, allows for the use of an array of interfaces when the TC100S is connected to digital devices, not limited to USB-C, USB-A, and Lightning. One can select a suitable data cable to connect the digital device directly according to your need for different cable lengths. The USB cable* bundled with the smartphone can also be used, alternatively, it is recommended to use ddHiFi TC09S and MFi09S cable to get a better sound quality experience.
(*1. Some USB-C high-speed data cables may not be compatible with TC100S; please use a more conventional USB2.0 data cable. 2. When working with an iPhone, it is required to use the data cable with OTG functions, such as MFi06 and MFi09S, or the OTG adapter like ddHiFi TC28i and TC28i Pro. The conventional data cable without the OTG function cannot work for it.)
24 bit / 192 kHz Support
When using it with a smartphone, you can use Hi-Res music player Apps to enjoy lossless music up to 24bit / 192kHz*.
*Note: The coaxial interface of most common decoding devices only supports signal input up to 24bit / 192kHz.
Specifications of TC100S
(the detachable version of TC100-COA)
ID Recognized by App: TC100COA
Sample Rate Support: Up to 24bit / 192kHz
Interface Type: USB-C Connector, RCA Socket
Dimensions: 85×20×12.5(mm)
Weight: 18g
If you are interested in getting one, please check with local sales agent for its availability. If there is no sales agent in your local market, just grab one from DD Aliexpress store at: >> Click here